My Favorite T-shirt and a Holiday Wish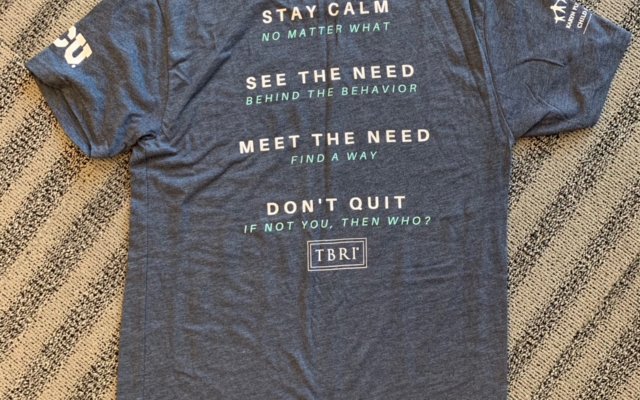 You're probably wondering why in the world someone would title a Connected Community Blog "My Favorite T-shirt?" What does a T-shirt have to do with Trust Based Relational Intervention®, and what even makes for a favorite T-shirt? Well, let's explore this comfy cozy T-shirt obsession.
In the spring of 2017, the adoption staff at Maine Children's Home (MCH) and I were introduced to Trust Based Relational Intervention® (TBRI®). We were invited by adoptive parents to a live stream webinar where we learned TBRI® is an approach to parenting or caregiving children who have had early traumatic experiences and who often have been removed from their homes of origin and placed in a kinship home, foster, or adoptive homes. We were ecstatic to learn about TBRI. We knew this approach was what our adoptive families needed, and so many of the children we see in our counseling center and their kinship/foster caregivers needed. We were so excited about TBRI that two of us applied for scholarships to head to Texas Christian University/The Karen Purvis Institute of Child Development in the fall of 2017 to learn all about this approach and to become TBRI® Practitioners with great hopes of bringing vital information back to our community and great state of Maine.
Since that time, we have had the privilege of sharing what we've learned about caring for children with early traumatic experiences. We learned that the trauma some children have experienced actually causes them to behave in ways that are about survival. These behaviors are based in a fear response, having to do with experiences of being harmed through abuse and/or neglect or other early traumas. Behaviors we see in children who come from these difficult experiences often look bizarre or frustrating to those trying to take care of them. For example, a child may hide food if they had experienced extended times of deep hunger; or a child may have a temper tantrum as a response to a sudden loud noise if they had witnessed domestic violence — a situation where a child is completely powerless as they witness someone they love being harmed. But truly, these behaviors express a need for reassured trust — or, in TBRI® language, "felt safety". We also learned that certain overwhelming sensory experiences — when something is too bright, too loud, or fabric is too rough, or a touch is either too light or to deep — and dehydration and/or blood sugar changes are just a few of so many things that can affect children's (and adults!) behaviors. A lack of understanding of behaviors can cause children, and those caring for them, great frustration that can prevent the need behind the behavior from being addressed.
We all can take a better approach to parenting when we understand the brain-science research of childhood development — a child's brain is 'wired up' differently if they have early years of abuse, neglect, or other traumatic experiences. Kinship caregivers, foster, or adoptive parents who have this insight into the science of their child's brain development see behaviors through a different lens. They are able to understand how needs can be responded to in a loving and nurturing, structured, and consistent environment — the TBRI® approach.
At MCH, we've had the privilege of sharing this knowledge and we hope that in the years to come we'll have even more opportunities to share. This is critical information, especially in this time of an ever-growing number of children who need care from kinship, foster, and adoptive parents.
OK. So, what does this have to do with my favorite t-shirt? So, remember, in 2017 a couple of us from MCH ventured off to Texas for the beginning of this amazing journey with TBRI ®? (And since then a couple more staff have ventured off as well to other parts of the country for TBRI ® training. We're on a mission at MCH!) At that training, there were resource tables available to add to what we would want to share with parents/caregivers and their children upon our return to Maine to help bring back what we'd learned. One of the items on these resource tables were these fabulous, soft, comfy, cozy, and inspiring T-shirts. We noticed many of the speakers at our week-long training were wearing these cool t-shirts! The shirts had the TBRI® logo on the front, the Texas Christian University (TCU®) logo on one shoulder and the Karen Purvis Institute for Child Development® on the other, AND ... wait for it … on the BACK were bullets that pretty much wrapped up the basics of what we all need to know about TBRI! Kind of a short and sweet reminder for parents/caregivers to:
Stay Calm … No Matter What
See the Need … Behind the Behavior
Meet the Need … Find a Way
Don't Quit … If Not You, Then Who?
This last bullet is my favorite part of my favorite T-shirt ... "If not You, Then Who?"  If I could give one of these T-shirts to every foster/adoptive/kinship parent or caregiver that I've ever met or ever will meet, or all of our adoptive parents and all of our foster parents, aunts, uncles, grandparents providing care to these wonderful, yet sometimes challenging, children, I absolutely would. Because, to me, the T-shirt says we see you incredible people rising up to the challenge of caring for our most vulnerable — children from challenging experiences. We hear your struggles and we want to help. We value all that you do and we hope beyond hope that you WILL NOT GIVE UP … because IF NOT YOU, THEN WHO? We need you, our community needs you … these children NEED YOU. You are amazing, you are valued, you are equally as precious as the children you love and care for.
This holiday season and always: I wish you all a favorite T-shirt that celebrates you and all that you do. Wear it like a big warm hug because you need and deserve it. From our MCH family to yours, Happy Holidays.
Written by Debra Levenseller, LCSW, RPT-S, MCH Clinical Supervisor; TBRI® Practitioner