Your Donation Will End Up in the Hands of a Real Child
When a child opens a gift from Christmas Program, it is the program's hope that the child feels special and thinks: "this gift was meant for only me, and I am the first person to own it."
Christmas Program strives to provide high-quality gifts that are tailored to the requests for each individual child — real Maine kids. These real kids are the reason why the program accepts only newly purchased items that are in their original packaging — free of dents, tears, and dirt.
Donated items can be dropped off on the front porch of Building #3 (the 2nd building on the right after entering the MCH campus) between 9 a.m. and 3 p.m., from Monday through Friday. Those who drop off donations are asked to please fill out a donation slip to leave with their donation bag or box, and to label their donation with "ATTN: Christmas Program."  
If mailing in a donation, shipments should be addressed to: 
Christmas Program at Maine Children's Home
93 Silver Street
Waterville, ME, 04901
Christmas Program Needs You
Donations are greatly needed and deeply appreciated all year long, as volunteers and staff at Christmas Program must build inventory throughout the year in order to meet the needs of all of the families who are served by this program. 
Donations received after this holiday season will be used to prepare for the next holiday season. There is no such thing as a donation that is "too early" or "too late".
Below is a current list of the items that help Christmas Program prepare for the needs of children and families during the winter months.
Christmas Program's Urgent Needs List (current 6/2022)
Download a printable needs list.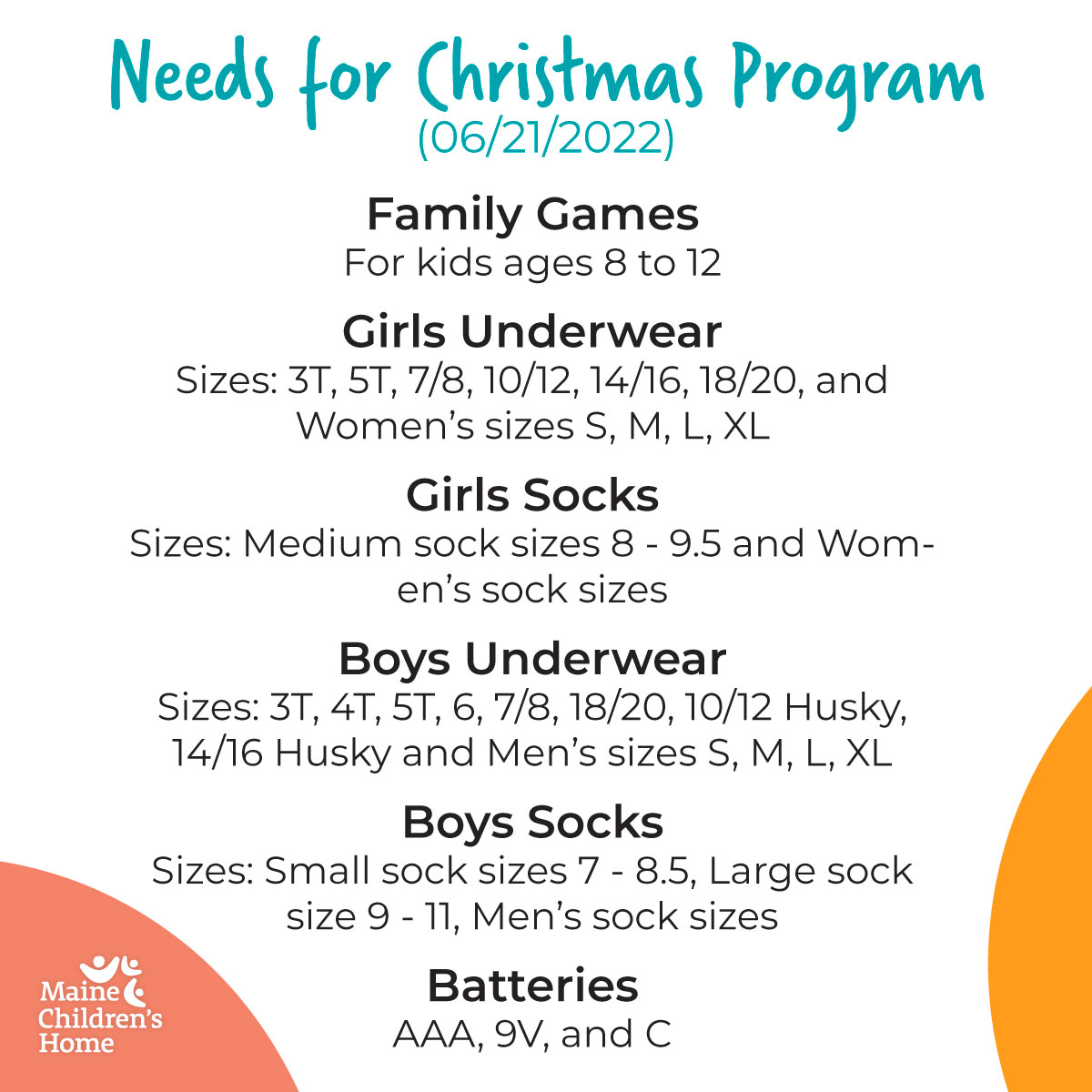 ---
Make a Monetary Donation to Christmas Program
Monetary donations to Christmas Program help with the costs of running the program, such as purchasing specific items or clothing sizes when there is a shortage.