Adopting Harry 2: Coming home from South Korea during a pandemic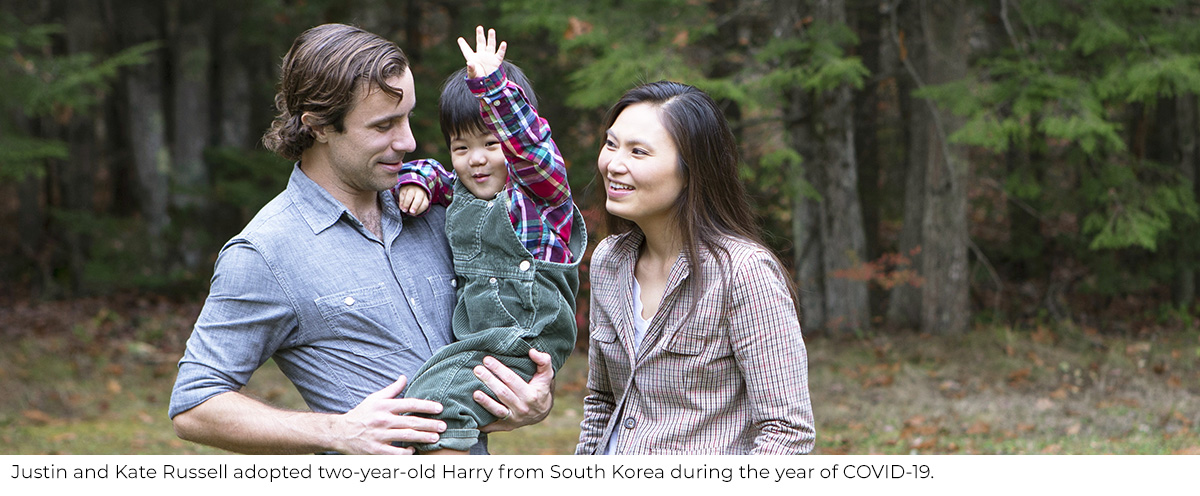 In Part 1 of Adopting Harry we learned that Kate and Justin Russell's decision to adopt from South Korea was inspired by a trip that Kate had taken to South Korea during her sophomore year in college and her own adoption story. In this entry, Part 2, we see how the Russells were able to bring home two-year-old Harry, their son, from South Korea during a global pandemic.
Adopting a change in plans
In 2019, Kate and Justin Russell expected the process to adopt their third child — two-year-old Harry from South Korea — to be slightly more complicated than an average international adoption. The logistics of adopting from the same South Korean orphanage that Kate had been adopted from 30-plus years ago involved the use of two adoption agencies.
"We had to work with the adoption agency that worked with the orphanage that I was adopted from," Kate told the Maine Children's Home. "But we also had to work with a different home study agency (the Maine Children's Home) because we weren't located near the adoption agency that worked with the orphanage in Korea."
By the time March 2020 came around, the Russells had figured out those extra steps, and their adoption seemed to be moving smoothly. But, just one week after they received the court hearing date for finalizing the adoption, COVID-19 was declared a national emergency in the U.S.
As was the case for most plans made for 2020, the timeline of Harry's adoption was altered by the virus.
Before the pandemic, the original plan was for Kate and Justin to fly to South Korea in April to finalize the adoption and bring Harry home, while their two daughters stayed with Kate's parents. But the Korean government ended up postponing the court hearing until June, and the U.S. and Maine tightened restrictions on passports and interstate travel. These restrictions meant that Kate's parents wouldn't be able to drive into Maine to babysit their grandchildren. Since the Russells wouldn't have time to get passports for their daughters, either Kate or Justin would have to stay home with the girls while the other traveled to South Korea alone. The only problem with that option was that the Republic of Korea requires both prospective adoptive parents to be present in Korea for finalizations.
In an effort to still bring Harry home in 2020, the Russells wrote a plea letter to the South Korean court. They asked the government to make an exception due to the circumstances of the pandemic, to allow the Russells to send only one parent, Justin, while Kate stayed home with their daughters. Fortunately, South Korea graciously accepted just a month before the court hearing.
We really did luck out with our situation," said Kate. "I was very disappointed that I wasn't able to go. But I was happy that Justin was able to go and see the orphanage, to see Korea."
Meeting Harry in South Korea
Justin had never been to South Korea before, let alone during a global health crisis. He was very nervous about complications with flights and the possibility of travel bans during his time overseas. But everything went well on his two-month trip.
After he quarantined for 14 days, Justin felt supported by the people around him. Everyone was helpful and seemed to take social distancing and masks very seriously. He also discovered a community of other prospective adoptive families who were in a similar situation as he was.
"It wasn't fun being away from my family for so long, but it ended up being alright," said Justin. "While I was nervous going in, it ended up not being so bad."
When he finally met Harry in-person during his third week in South Korea, he said it was "surreal".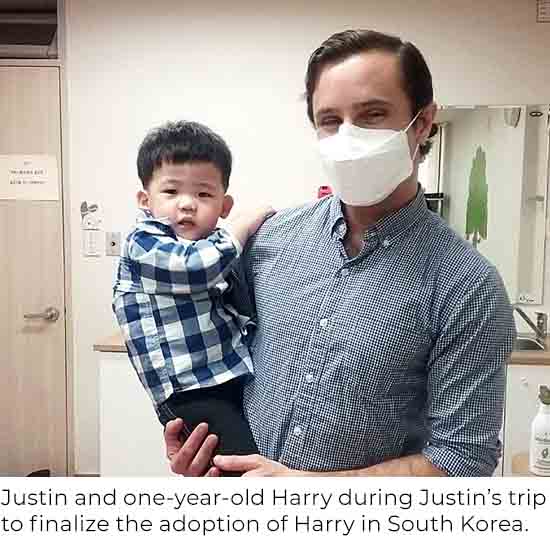 "He was great with me from the start. There was this build-up of excitement. It was really exciting to finally meet him and spend some time with him. And, actually, I got to spend some one-on-one time with him on our second meeting and a few other meetings before the finalization of the adoption. So, I felt as if I was able to build a rapport with him."
Justin attended the court hearing during his fourth week. The rest of the trip was spent waiting out the grace period — two weeks in which birth parents or prospective adoptive parents can change their minds about an adoption — and completing VISA and custody paperwork. Most families adopting from Korea fly home some time between the court hearing and taking custody, but that option wasn't possible for the Russells due to travel restrictions.
On week eight, it was time to finally go home.
"I was nervous to take him on the flight from Korea to here. But he did so well!" Justin told the Maine Children's Home. "He slept a fair bit. I was really looking forward to taking that next step of not being in the process anymore, and working on the transition. I was excited to see how he would take to the girls and take to Kate."
Once Justin and Harry arrived in the U.S., Kate and their daughters picked them up at the airport.
"It was an amazing moment when we drove back from the airport, and the three of them (the kids) were sitting the back seat. They were all just kind of giggling at each other," said Justin.
"That was the magic moment of being back."
---
If you were moved by this story, please consider making a donation to The Red Stocking Fund of the Maine Children's Home today. Hundreds of Maine families benefit from the essential services the Maine Children's Home provides — counseling, adoption, teen parent education and support, parent training and mentoring, summer camp resources, and the Christmas Program. In the year of COVID-19, the demand for home support has been more urgent than ever.
Thank you for supporting the Maine Children's Home, and serving the love, the meaningful connection, and the stability that ALL children and families need and deserve.
Written by Chelsea Ellis, Marketing Coordinator at the Maine Children's Home