The There's No Place Like Home evening with Maine authors was broadcast live here and on YouTube and Facebook on June 17 at 7 p.m. Watch the event above!
Thank You Everyone Who Has Participated in This Fundraiser!
The There's No Place Like Home fundraiser raised nearly $30,000 thanks to the incredible support of our sponsors, donors, supporters, and volunteers! Thank you for supporting our mission to build and strengthen children and families.
There's No Place Like Home
A Raffle, Silent Auction, & Celebration
with Maine Authors for Maine Children's Home 
In Spring 2021, supporters of Maine Children's Home (MCH) joined together to raise almost $30,000, participating in the month-long fundraising event and celebration — There's No Place Like Home!
About the Raffle & Silent Auction
The raffle portion of this fundraiser was online and open from Monday, May 10 to Monday, June 14. The silent auction portion was open from Wednesday, May 26 to Monday, June 14. Both the raffle and the silent auction included several exciting items that winners will be kicking off summer with! The winners of the raffle were announced during the online celebration on June 17, 2021 from 7 to 8:30 p.m.
The online celebration was emceed by Maine Humorist Gary Crocker on Thursday, June 17, 2021 from 7 to 8:30 p.m. Gary was joined by special guests and Maine authors Chris Van Dusen, Cynthia Lord, Juliese Y. Padgett, Lynn Plourde, and Earl Smith, who shared brief readings of their work. The celebration also included inspirational stories about MCH's mission to build and strengthen Maine families. 
All funds raised from the There's No Place Like Home raffle, silent auction, and celebration support the programs at Maine Children's Home for adoption services, counseling, teen parent support, holiday assistance, and workshops, trainings, and classes for caregivers and parents.
About the Guest Speakers — Maine Authors
These wonderful Maine authors shared brief readings of their work during the There's No Place Like Home celebration.
Gary Crocker - Our Host for the Evening!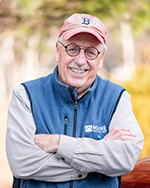 Gary Crocker is a Maine native who believes in the power of humor to improve almost any situation. He has offered remarks and observations in the classic Maine tradition to groups, organizations, and businesses from Maine to California and once in Paris, France! A retired educator and Navy veteran he enjoys helping organizations raise funds to help people in need. Please join Gary as we gather to raise funds to support the programs of Maine Children's Home!
Chris Van Dusen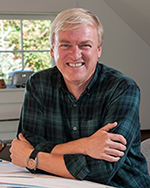 Chris Van Dusen (chrisvandusen.com)was born in Portland, Maine on St. Patrick's Day, 1960. As a child, his heroes were Dr. Seuss and Robert McCloskey. He loved the rhythm of Dr. Seuss' words and he was fascinated by the meticulous detail of Robert McCloskey's illustrations.
In 1982, He studied fine art at The University of Massachusetts at Dartmouth and graduated with a BFA. For more than ten years, he worked as a freelance illustrator specializing in art for kids. He was doing mostly editorial work and his illustrations appeared in magazines like Nickelodeon, Family Fun and Disney Adventures.
One day he started thinking about drawing a picture of a boat stuck high up in a tree. He thought that would be a really funny and intriguing illustration. At the same time, a refrain kept running through his head- "Mr. Magee and his little dog, Dee/ Hopped in the car and drove down to the sea". The combination of these two things eventually became his first book, "Down to the Sea with Mr. Magee" which was published in 2000. He's been busy writing and illustrating children's books ever since.
Cynthia Lord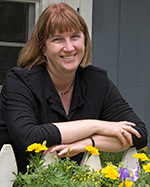 Cynthia Lord (cynthialord.com) is a former elementary and middle-school teacher and the Newbery-honor winning children's book author of Rules, Touch Blue, Half a Chance A Handful of Stars and Because of the Rabbit. She is also the author of the Hot Rod Hamster series, illustrated by Derek Anderson, and the Shelter Pet Squad series illustrated by Erin McGuire, all published by Scholastic. Her first nonfiction book, Borrowing Bunnies, is published by FSG/Macmillan. In September 2021 she has a new series coming with Candlewick Press called Book Buddies. She lives in Brunswick, Maine with her family, a dog, two guinea pigs, and three rabbits.
Juliese Y. Padgett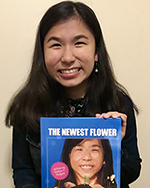 "I know that each of us have qualities that make us unique and beautiful." This quote, found in Padgett's children's book The Newest Flower, is the heart of the book.
In July 2008, Juliese Padgett was adopted from Guangzhou, China. As a homeschooling project, she was inspired, at the age of 7, to write a personal narrative to process her own feelings of being Asian while living in Maine. Now, Padgett (age 15) continues to be an advocate for children getting forever homes by donating all book profits to Maine Children's Home. In her spare time, Padgett has continued to write her personal narrative on her blog: Seeded in a Distant Land.
Lynn Plourde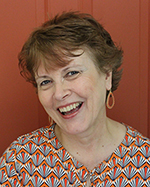 Lynn Plourde (lynnplourde.com) is the author of forty kid's books including Moose, of Course! Maxi's Secrets, Happy Birthday, Maine! and her newest book, How to Talk Monster. She does numerous author visits to schools, teaching students how to write their own stories. Lynn grew up in Skowhegan and currently lives in Winthrop with her husband.
Earl Smith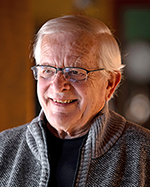 A native of Waterville, Earl Smith graduated from the University of Maine in 1962 when he began a 40 year career at Colby, serving in numerous administrative posts including dean of students, dean of the college, secretary of the corporation, and as assistant to three Colby presidents.
He retired in 2002 and continues to serve as the college historian. His public service includes elected terms on the Waterville City Council and the Board of Education, and as a member of the Maine House of Representatives. He served as member and chair of the board of Mid-Maine Medical Center and the Kennebec Valley Community College Foundation, and as a Governor of the Colby Art Museum. He currently serves as a commissioner of the Maine State Museum.  
He has received Colby's Marriner Distinguished Service Award at Colby, the Bernard King Award at KVCC, and the Human Rights Award from the Elijah Lovejoy Society in St. Louis.
He is the author of seven books:
Downeast Genius (Islandport Press, 2021), Water Village, The Story of Waterville (Maine North Country Press, 2018), Head of Falls (North Country Press, 2016), More Dam Trouble (North Country Press, 2014), The Dam Committee (North Country Press, 2011), With the Help of Friends (The Colby Art Museum, 2009; Colby College Press, 2009), Mayflower Hill, A History of Colby College (University Press of New England, Hanover and London, 2004)
Thank You to the Sponsors of This Event!
Gold Sponsor
Emerson Toyota
Silver Sponsors
Northeast Laboratory Services   •   Sappi 
Bronze Sponsors
Century 21 Nason Realty   •   Goble Family Restaurants  •  Golden Pond Wealth Management  •  Anonymous 
Item Sponsor
Bangor Savings Bank 
Partner Sponsor
Central Maine Motors Auto Group  •  Anonymous 
Supporters
Belfast Self Storage • G&E Roofing • The Friends of Maine Children's Home