The Friends of Maine Children's Home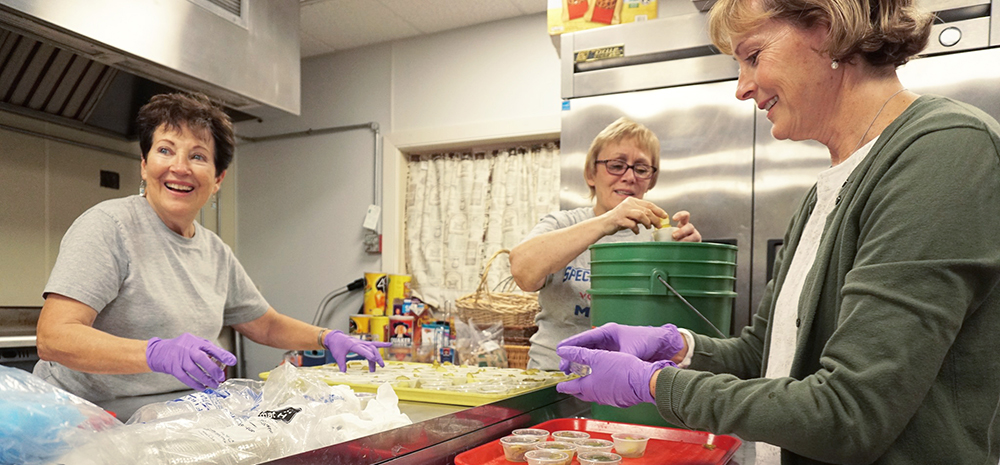 The Friends of Maine Children's Home (MCH) is an organization formed to create a closer relationship between the agency and the community and provide assistance to the agency in serving children and families through fundraising and volunteerism. 
The Friends are goodwill ambassadors that have helped promote fundraising activities, as well as provide resources to help grow and maintain MCH's core programs, for more than 60 years. The Friends' Famous Fundraising event is the Lobster Roll Lunch.
Lobster Roll Lunch 
Every October, volunteers come together to make lobster rolls that are ordered by supporting businesses and organizations in the community. After a morning of making lobster rolls, volunteers head out to deliver the nearly 200 pounds of lobster rolls. The lobster meat is a very generous donation from Cozy Harbor Seafood. The money raised from this popular event goes towards supporting important programs of MCH.
Book Shower
Each spring, to honor the teen parents and their babies in the Teen Parent Education Program at MCH, volunteers get together to create personalized book totes for teen parents, filled with books for their children.
KEY Supporters for Christmas Program at MCH
Each year, Christmas Program at MCH distributes boxes of gifts and clothing to 1,200 or more children throughout the state. MCH's biggest community effort wouldn't be possible without the driving support of The Friends, who provide volunteers, purchase needed items to go into the boxes, are all-around ambassadors for the program, and engage donors and other community members to support the program.
Want to Learn More?
If you want to learn about the ongoing efforts of the Friends organization, upcoming events, or to volunteer, please contact Volunteer Coordinator Amanda Simmons by email.

Maine Children's Home
93 Silver Street
Waterville, ME 04901
Phone: (207) 873-4253
Fax: (207) 872-0281
Join us at our Next Meeting! 
We get together on the first Tuesday of every month September - June at 6 p.m. Contact Volunteer Coordinator Amanda Simmons by email for more information.
Driving Directions
From the North 
Take I-95 to exit 127. Go down the ramp; take a left onto Kennedy Memorial Drive. Continue straight through six sets of lights. You will pass Shaw's, Inland Hospital, Auto Zone, and Gifford's Ice Cream. Continue straight about a half mile to The Maine Children's Home campus on the left.
From the South 
Take I-95 to exit 127. Go down the ramp; take a right onto Kennedy Memorial Drive. From here, follow the directions as above for northbound.