WATERVILLE, Maine — The Maine Children's Home for Little Wanderers has announced the agency's annual award recipients. The awards were presented as part of The Maine Children's Home Annual Celebration held at the Waterville Elks Lodge on Jan. 22.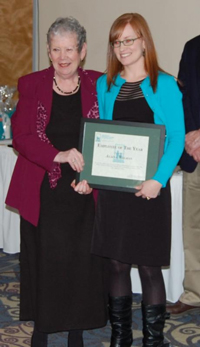 The Annual Celebration, held each January, included an introduction of new board members, a silent auction, and an award ceremony. To recognize the Teen Parent School Program's 40th anniversary, a panel of four former graduates representing the four decades since the program's inception shared their stories with attendees.
Alaina Wolman of Skowhegan, a past Teen Parent School Program graduate and an employee of The Maine Children's Home for ten years, was recognized as Employee of the Year for her dedication, hard work, and positive attitude. Wolman was also featured on the Teen Parent School panel during the event.
The Exceptional Service award was presented to Jean Sawyer of Waterville for her dedication to the agency's volunteer group, the Friends, and to the board, and for the time and effort she spends providing the students of the Teen Parent School Program with food and other necessities. 
The Herrick family of Skowhegan was awarded with the Volunteers of the Year award for assisting with the packing and shopping for the agency's Christmas Program that serves more than 1,700 children each year.
Jill Huard of Waterville was awarded for her service to the board and serving as the board's president for two years.
"We are so grateful to have such dedicated employees, board members, and volunteers," said Maine Children's Home Executive Director Sharon Abrams. "Without them, none of the agency's programs could be successfully carried out. We're so pleased to be able to honor a handful of them each year as part of the Annual Celebration."
Past Maine Children's Home Executive Director Sanford Adams and Waterville Superintendent Eric Haley were also recognized for contributing to the success of the Teen Parent School Program over the years.