Richard Dorian, a unanimous selection based on his experience and proven leadership 
WATERVILLE, Maine — Today, The Maine Children's Home for Little Wanderers announced that after a thorough nationwide search and selection process, Richard Dorian will serve as the nonprofit's new executive director starting on January 1, 2016.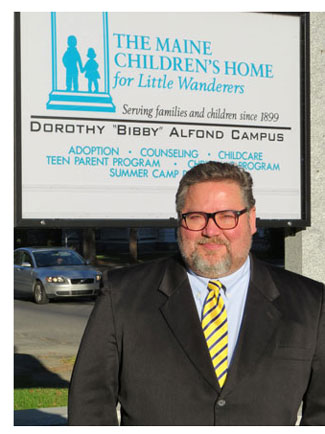 Dorian has extensive experience and credentials that made him a unanimous choice to lead one of Maine's oldest nonprofit agencies. His nonprofit background includes 27 years of leadership and management experience, including 15 years as executive director at LEAP (Life Enrichment Advancing People). He also has an extensive background in community relations, strategic planning, development and fundraising.
Current Executive Director Sharon Abrams, who has served as executive director for 23 years, announced her plans for retirement three years ago, which led The Maine Children's Home's board of directors to work closely with Starboard Leadership, a consultant specializing in nonprofits, to facilitate the process of finding a new executive director.
Following the work of the executive team and search committee, the groups narrowed down the nationwide pool of applicants and conducted phone and in-person interviews. After the final round of interviews with the top candidates, both the search committee and board of The Maine Children's Home unanimously voted Dorian as Abrams' successor.
"Richard's experience and leadership in the nonprofit world made him stand out to the executive team and search committee as the best candidate to lead The Maine Children's Home. Based on his background, proven track record and references, we are very confident he will help build on the incredible work that Sharon and our staff have done to carry out our mission by strengthening Maine families, and instilling hope for the future and a better quality of life," said President of the Board John Stanley.
On Nov. 16, Dorian will join Abrams at The Maine Children's Home campus to start the transition process, and will actively serve as the executive director starting on Jan. 1 when Abrams officially retires. There will be a meet and greet for the community to meet Dorian on December 10 from 4-6 p.m. at the Esklund Community Center.
In 2007, Dorian received his certificate in fundraising management from the Center on Philanthropy from University at Indianapolis. He also holds a Bachelor of Arts in Human Studies Program from Bradford College and a Masters in Management of Human Services from the Heller School at Brandeis University. He recently completed his Masters in Divinity from ILIFF School of Theology in Denver.  He is a part-time licensed pastor at the Centenary United Methodist Church in Skowhegan and has been involved in a number of volunteer activities in the community. Dorian has also served as the president and as an executive committee member of the Maine Association for Community Service Providers. Dorian lives in Skowhegan with his family.