WATERVILLE, Maine — On Thursday, January 14, The Maine Children's Home for Little Wanderers' leadership team presented the agency's awards at its annual celebration. Each year, the awards recognize an employee and volunteer of the year, and community partners that support the nonprofit in a variety of ways.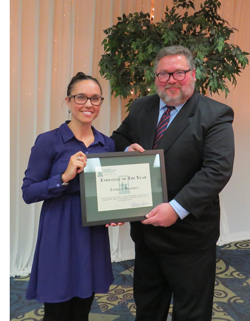 More than 120 board members, staff, donors, Friends of The Maine Children's Home, and local business leaders assembled at the Waterville Elks Lodge to participate in the annual celebration and silent auction, enjoy dinner, and kick off the annual campaign.
The Employee of the Year award was presented to Lindsay Bragdon, LSW, adoption counselor and caseworker at The Maine Children's Home, for her professional approach to the families she serves, and commitment to the agency's Hague-accredited adoption program and to educating the community about the services available.
Members of The Maine Children's Home's volunteer organization referred to as the "Friends of The Maine Children's Home" were presented with the Volunteer of the Year award for their generosity, willingness to help, and hard work in organizing successful fundraisers like the summer yard sale and the lobster roll lunch that support the Summer Camp Scholarship Program and the Christmas Program.
Valued service awards were presented to Inland Hospital for its continued support of The Maine Children's Home through the hospital's Community Benefits grants; Atkins Printing Services, for their donated printing services and their financial contributions; and to Nancy Marshall Communications for the agency's PR, marketing, and Web services which resulted in more than 150 new online donors in 2015.
The Maine Children's Home's new executive director, Richard Dorian, spoke publically for the first time since taking on the position at the beginning of 2016. "We can't fix all of the problems of every child in Maine, but together, we have made a big difference in the lives of more than 2,300 children and families over the past year. It takes all of us pitching in whenever we can, however we can," Dorian stated.
Maine's attorney general, Janet Mills, was the guest speaker at the annual celebration, and she spoke about the many ways her office helps children and families. She shared many examples of how Maine's children are at risk and stressed that communities need to come together through organizations like The Maine Children's Home to empower the state's youth with "roots and wings" so they leave behind past hardships and continue down a better path.