Waterville, Maine — Thursday, April 20, 2023 — Rick Dorian has announced he will step down as executive director of
Maine Children's Home (MCH) on July 31, following the organization's spring outreach and fundraising appeal. Dorian has led the child- and family-focused nonprofit since January 2016, guiding the organization through significant growth and changes based on the community's evolving needs.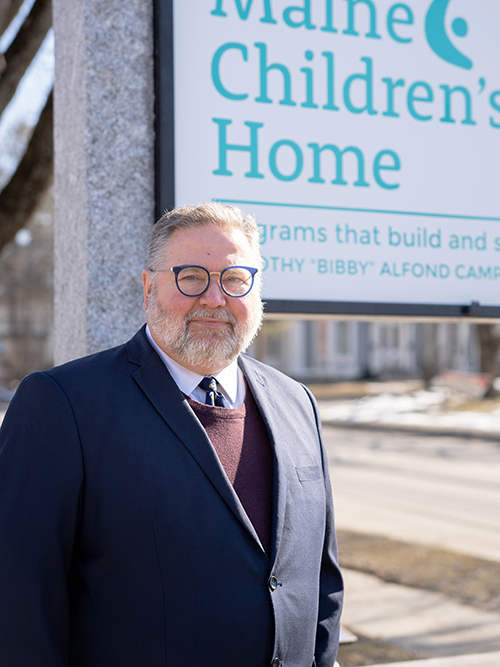 Dorian will be exploring opportunities in faith-based community development while MCH's board of directors oversees a national executive search to fill the position. 
Under Dorian's leadership, the Waterville-based organization has increased the educational resources it offers to people who care for and work with children, making research-based and trauma-focused skills more accessible. MCH skillfully adapted its programs in response to the pandemic, offering remote services such as Telehealth counseling to clients in the organization's
Family Counseling Center and remote parenting and caregiver classes on Zoom. In addition, the organization has expanded its local partnerships to serve the community and share its social work expertise more fully. 
"I have deep gratitude and excitement about the work that has taken place in my time with MCH," said Dorian. "While Maine Children's Home is 124 years old, the team at MCH remains on the leading edge, working diligently to ensure programs meet our community's most urgent needs and leveraging MCH's expertise and long experience. MCH makes a significant difference in the lives of those the organization serves, and its impact grows every day."  
"Rick's unwavering dedication to Maine Children's Home and the families it serves across Maine has been remarkable," said Board President Ryan Kurr, who is also the Director of Business Services at Families Forward. "His combination of benevolence, empathy, and tactical leadership has enabled us to maneuver through some of the toughest periods in recent times and has set the organization on an exhilarating upward trajectory."  
"MCH's Board of Directors, Rick, and our outstanding staff are collaborating with Starboard Leadership Consulting to identify the next executive director of Maine Children's Home," said Kurr. "We are all eagerly anticipating what lies on the horizon for this remarkable organization. The future is bright because we walk it together." 
"I could not consider this transition without the experienced and dedicated leadership team, the skilled staff in place, and the talents, commitment and depth of the MCH Board," said Dorian. "I am excited about the foundations we have strengthened in many ways at MCH, with tremendous opportunities ahead." 
A full description of the executive director opportunity and more information about MCH is provided at www.mainechildrenshome.org/contact/job-opportunities. 
### 
A photo of Rick Dorian can be found here: 
https://drive.google.com/file/d/1PiFsO9XxZpwFYxMDTFlU54yxQ4Yb_1R2/view?usp=sharing 
About Maine Children's Home 
Maine Children's Home (MCH) is a 501(c)(3) organization that offers programs for building and strengthening families and their children, instilling hope for the future and a better quality of life. Founded in 1899, the Waterville-based organization has evolved with the changing needs of families and children, and supports more than 3,000 people each year through the following programs and services: 
Family Adoption Program

 

- 

Providing a lifetime of services for birth parents and adoptive families 

Family Counseling Center

 

- 

Guiding toward hope, healing, and wholeness 

Journey Program

 -

 

Supporting young parents on their path to self-worth and positive parenting 

Connected Families Project

 

- 

Offering powerful, accessible tools to help strengthen families 

Christmas Program

 

- 

Sharing joy and winter warmth with kids and families 
More information about MCH's programs and its history can be found at MaineChildrensHome.org.